Great Fishing All Over the World!
Dear kenn mack,
Thanks for making this wonderful rocket bobber. Rocket bobbers are so amazing. I have used different kinds of floats for fishing..but after using the rocket bobbers, these are my favourite choice.
wow what an intelligent design n balance you have given to this bobbers.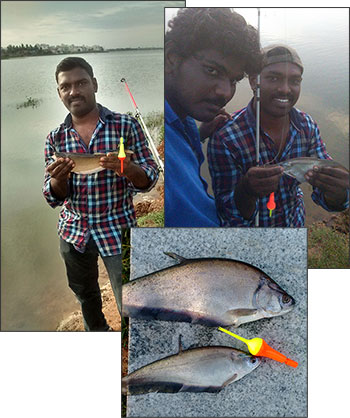 Without any efforts I can easily cast a country mile and accurate spot where I like to fish. It's so amazing.. I tried both the functions which is a fixed bobber mode and other is slip mode. Both are very sensitive and doing the job very well. Within ten minutes of casting on water, the bobber started standing up. wow, it looks so beautiful and fun. I immediately set the hook and got my first fish for dinner with the help of rocket bobber. I felt very happy.
All credit goes to you only Mr.kenn. I thank you again n again for sending me this wonderful bobbers. I have also attached the photo of the first fish I caught with the help of rocket bobber. Please I kindly request you to post my comments and photos in tackle 2000 website. Please send me an reply email that you got my mail.
Thank you very much Dear kenn mack….
If you want any help or any work to be done here in India, please consider and remember me. I am always available to help you, sir.
Thank you,
– Kumar
Great distance as a slip bobber!
You will be able to cast "a country mile" with the large size. With a weight of 4/10 of a ounce when you rig it as a slip bobber you have the extra weight down low so you can cast you rig with a minnow or worm and thet will stay on. This is one great product !!!!! Bar none………….
– pafriend from PA
Best bobber ever!
Well its about time cabalas got these in. Anyway these are by far some of the best bobbers ive ever used. First of you can cast them farther then any other bobber ive used. Second these bobbers are the only bobber ive seen that can detect the lightest bites from fish, the key is to wrap your line around the small metal loop of the bobber twice then close it, use NO split shot and a small ice fishing jig for a hook, put bait on and your ready to go. For crappie do the same thing as previsly said to the bobber but add a very small split shot and a small hook. With this rig you cant go wrong if they hit it you got them. What makes this bobber different is when used how i said it lays on its side and as the fish picks it up the smallest amount of weight moves the top of the bobber out the water. If it starts to move up set the hook and there you go fish on =) good luck and hope this helps everybody get the most out of there rocket bobbers. The bobbers also come in two sizes and glow in the dark models so cabelas if you dont have the glow in the dark ones you should get them.
– Multispeciestamer from Michigan
Rocket Bobbers are the best!!!!!!
I found these in Minnesota 10 years ago and they are awesome. They are so easy to use that my 4 year old used it easily. It is great for kids! I moved to CT and cannot find them anywhere. Now I can!! I'll have 20 please. They are great for sunnies with the kids as well as walleye, crappie, bass, ect…….. They cast very well and adds enough weight to get it where you want it. There is also a setting to use slip bobbers with it. ie walleye. One draw back, There is only one size. not able to float with (bigger baits) 1.5 oz weight and bait. to heavy. Please make bigger one's. I strongly reccomend these bobbers for fishing anytime of year.
– cking1225 from Hartford, CT